Arkansas Lactation is a company whose mission is to meet every family where they are at in their unique feeding journey, without judgment, to help them meet their personal feeding goals through compassionate, evidence-based care.
A note from founder and IBCLC Katie Atkins:
I began my journey by attending the University of Arkansas where I completed my bachelor's degree in dietetics (nutrition). The idea of preventing disease, treating disease, and nourishing your body simply by what we put in our mouths captivated me. Shortly after I graduated, I started working in the NICU at Washington Regional Medical Center in the nutrition department where I found myself specifically drawn to infant feeding. Providing quality care to families in this transitional time of life was the beginning of what has brought me much joy. This led me to pursue becoming a board-certified lactation consultant, which I completed in June of 2018. I obtained all of my clinical experience in the NICU, postpartum unit, and in outpatient, where I gained critical knowledge to be able to help with feeding difficulty in a variety of situations. I spent the first 2 years of my career working in the NICU and on labor & delivery/postpartum for Northwest Hospital in Bentonville. This is where I gained a very solid base of knowledge to be able to help the mother/baby dyad from birth to 48 hours old.
And then... I had my own baby. And as much as I loved it before, I gained a new appreciation for how dedicated moms are. I also realized how hard it can be and how much conflicting information is available to us. Even going into postpartum with the knowledge I had in the field of lactation, I still struggled. And this is what fuels me today. I want moms to have the best care, which includes clear, evidence-based information combined with steady encouragement and reassurance. Mamas and babies are my sweet spot, and I would love nothing more than to join you on your breastfeeding journey.
I currently live in Fayetteville, Arkansas, with my husband Kyle, my son, Jett, my daughter, Annie, and our 120 pound Rottweiler, Zeke. I work part-time at an amazing pediatric clinic in Johnson (Best Start Pediatrics) and part-time doing in home care. When I'm not talking milk and babies, you can find me with family, outdoors, working out, and almost always cooking!
Arkansas Lactation offers individual and group classes. Most insurance plans cover at least one in-home visit. Get insurance approval for a visit covered at 100%. This usually takes less than 24 hours. If you are not covered you have the option to self-pay and I can provide appropriate documentation to submit to your insurance company to seek reimbursement for our visit. While I cannot guarantee that you will be reimbursed, many of my clients receive partial or full reimbursement.
We also offer a free Breastfeeding Support Group. Join us every Tuesday at 10:00 a.m. for weighted feeds, support, and encouragement at 2211 West Main Drive, Fayetteville, AR. Call to RSVP (479) 879-2586.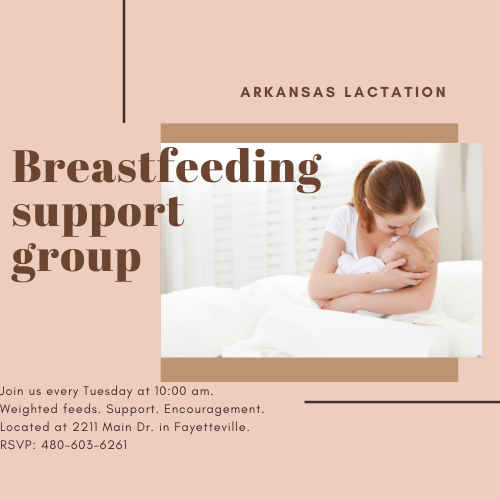 You can see all of the services we offer on our website here.