Over 5 years ago, I heard about the Ibotta app and how easy it was to use to earn cash back on grocery store purchases. I'm always interested in new ways to earn cash back or rewards on purchases I'd be making anyway, so I downloaded the free app to give it a try. I've been using Ibotta ever since, and it gets better all the time. What used to be an app I used only to get cash back in the grocery store now offers so many more ways to earn, including online shopping, which has been awesome during the pandemic. I've told many of my friends about Ibotta over the years because I love it.
Ibotta is so simple to use. Just download the free app on your phone. It works on both Android and Apple platforms and there is even a desktop extension you can use for your computer. Take a few minutes to scroll through and look at the available offers. I usually start by choosing the store name (shown here, Walmart) and Ibotta quickly loads up the offers available for me. I take a few minutes to click the ones I'm interested in and it adds them to my shopping list. One of the cool things about Ibotta is that it doesn't just work with brand-name items. Many times there are offers on any brand of milk, cereal, or bread. If you are buying those items regularly anyway, why not get cash back on them?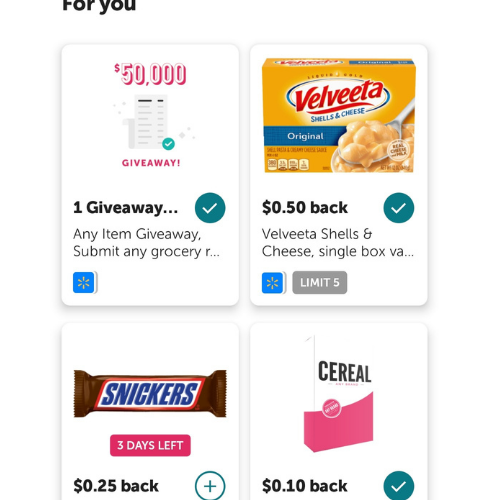 After choosing the offers that interest me, I'm finished until it's time to go shopping. I keep the app open on my phone in the store so I can look at my list of deals. Ibotta makes it easy by categorizing them by the department they are in (example: Dairy, Meat, Pantry, etc). If you are unsure if a product matches the description, you can easily scan the barcode with the app and it will tell you if it's a match. Many of the offers are available multiple times, so if it's a product my family loves, I will buy the maximum limit to get cash back on them. For example, the current offer for Chobani Flip yogurts requires that you purchase 4 of them to get $2.44 back. My kids love these for breakfast or for taking in school lunches so I was happy to purchase 4 different flavors at $1.22 each and get $2.44 back, which left me only paying $2.44 for 4 Chobani Flip yogurts. You can use Ibotta along with store discounts and paper coupons. so occasionally you can get items for just pennies, or even free! I purchase items for our local food pantry using Ibotta when I see a great deal on a nonperishable item.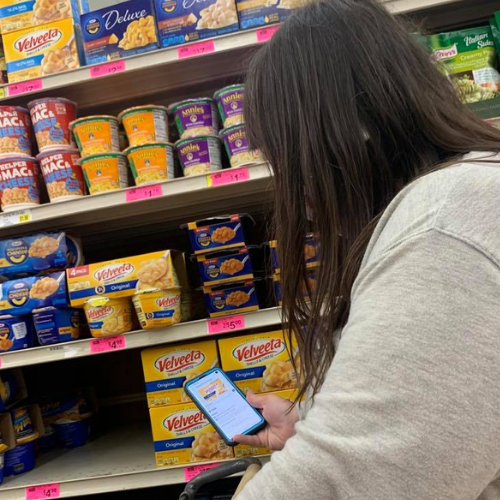 I like to keep the beef Hillshire Lit'l Smokies on hand for quick meal solutions. My family likes them with barbecue sauce and Ibotta has current offers for both Hillshire Lit'l Smokies and Ray's Barbecue sauce, so this offer was perfect!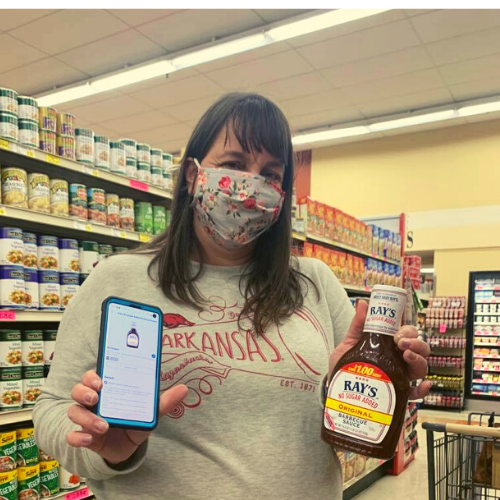 I shopped at Walmart Neighborhood Market in Farmington today and got $5.00 back on my purchases. When I got to the car, after loading up my groceries, I went ahead and scanned my Walmart receipt into the Ibotta app so I wouldn't forget. I find this is the easiest way for me to do it and it only takes seconds. By the time I've driven home, Ibotta has matched my offers and the money is in my account.
Want to avoid going into the store? You can use Ibotta for Walmart Grocery Pickup orders too! Other Fayetteville area stores I use Ibotta at include Harps, Dollar General, Target and even Dollar Tree.
New Ibotta users can earn $20 in Welcome bonuses and the average active Ibotta user earns $20 in cash back each month. I have earned over $300 cash back since I started using Ibotta. That's a lot of money to earn back on items you would purchase anyway! You can redeem your rewards for gift cards or you can have the money sent straight to your Paypal account. I like to save mine up and cash in for occasional gift cards for Amazon or Olive Garden.
Follow the Ibotta Facebook page for tips on great deals and contests.
Start your shopping with Ibotta and get more from your everyday purchases both online and in-store. I even use it for shopping on Amazon. It features offers on beer and wine, pharmacy, travel, and restaurants. It's well worth the few minutes of your week to choose the offers you'll use and apply them to get cash back you can spend elsewhere.
*All offers were valid as of publish date. Don't forget to check your app for details as offers change frequently and may not be available in all areas.
I was provided compensation in exchange for my honest review. All thoughts and opinions are my own.