Oasis of Hope Second Chance Thrift Shop
115 N Dixieland Rd
Rogers AR 72758
Google Map
Description
Join us for Oasis of Northwest Arkansas's Stages of Fear Haunted House!
Stages of Fear is an intense, terrifying haunted attraction located right by Frisco Station Mall in Rogers, Arkansas. If you're looking for new thrilling haunts this Halloween season, you've come to the right place.
We promise a chilling experience unlike any you've seen.
Admission: $10 - all online purchases come with a fast pass ticket!
Season Pass: $45 - unlimited visits with fast pass included every time!
Dates: Oct. 15, 16, 17, 21, 22, 23, 24, 25, 26, 27, 28, 29, 30, 31
Enjoy our thrilling attraction the ENTIRE week leading up to Halloween!
Doors open at 7:30PM & last ticket call is at 11PM
*We will not touch you and you cannot touch us, no refunds, & all ticketed guests will be served.
Our Haunted House proceeds go directly to support the mission of Oasis of NWA.
(Oasis of NWA offers safe, sober transitional living for women in recovery from abuse, addiction, incarceration.)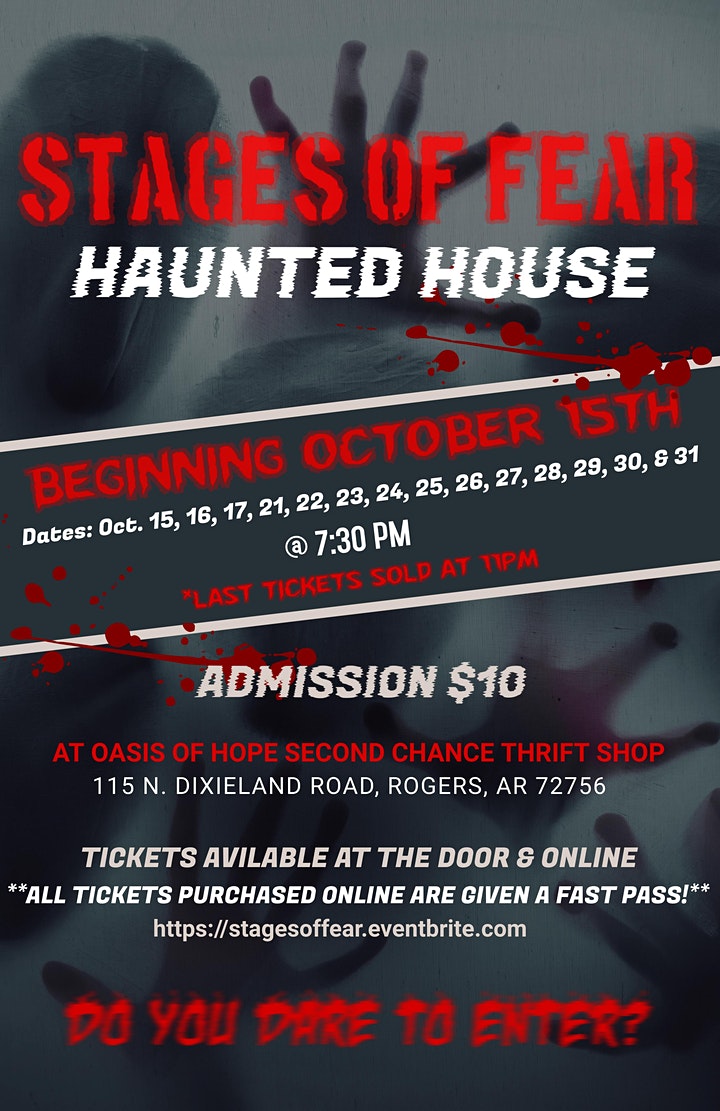 Who
best for ages 12 & up
Cost
$10
How
buy tickets online for fast pass. or at the door.
More Info