We were inspired to create this guide in 2020 during the height of the pandemic because many of our favorite family events had been canceled. We ended up finding so many great murals and even more have been added around Northwest Arkansas since then, so I've updated the guide to add more and keep this fun activity going.
If you know of an outdoor mural that I have missed, please send it to KaraA@macaronikid.com. Click each link to go to an article with more information about that piece.
Enjoy this info and want to find out about other family-friendly events in Northwest Arkansas? Subscribe to one of our free weekly e-mails of kid-friendly events in Northwest Arkansas. We love connecting families with all the great family fun in our area! Sign up at https://fayetteville.macaronikid.com or https://rogers-bentonville.macaronikid.com.
Fayetteville
The city of Fayetteville has created this comprehensive map of public art to be found throughout the city. There are many, many murals included here that your family can hunt for!

One of my favorites is the Enjoy Local mural created by Fayetteville artist Jason Jones. This mural is a great photo op and can be found at the Fayetteville square in the courtyard adjacent to the World Peace Fountain.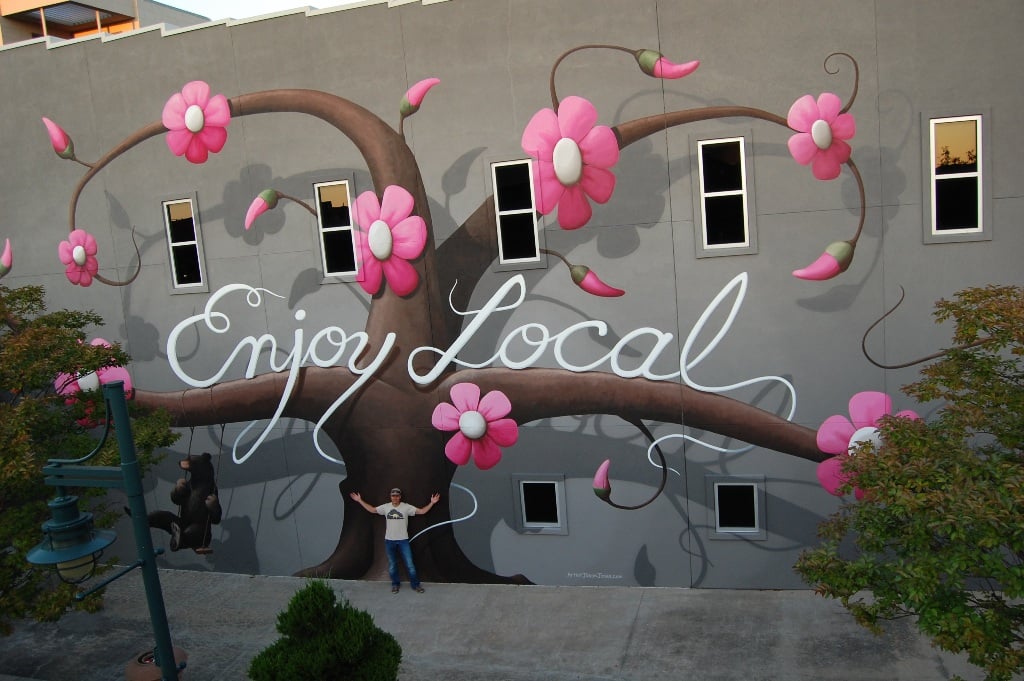 A few years ago the Fayetteville Police Department encouraged the painting of murals on traffic boxes to deter graffiti, and now you can drive up and down College Ave and enjoy some beautiful artwork on the traffic boxes. The mural shown here can be found near 915 N College in Fayetteville.
This amazing mural portraying the life and times of South Fayetteville is painted on the exterior walls of the handball court at Walker Park in Fayetteville. You can click here for a key to the historical figures depicted in the mural. (Be sure and check this out - it's really interesting!). Walker Park is located at 10 W 15th St in Fayetteville.
This is one of the new murals on Block St in Fayetteville, near the Arvest Bank. (Photo credit: Krista Pennington)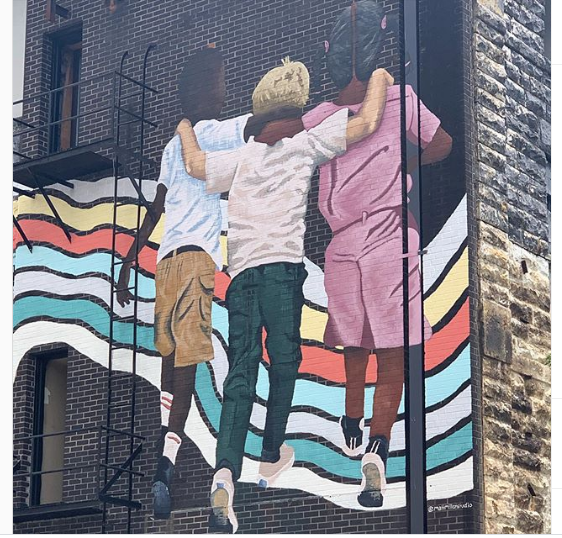 Springdale

If you see a traditional Ozark quilt square painted outdoors in Springdale, it is part of the Quilt Square Project created by artist Olivia Trimble. The largest piece is painted on a 450 square foot wall, with a large section near the Uptown Fayetteville Apartments on Steele Blvd. right across from Academy Sports.
Downtown Springdale has a Western mural that would make a perfect photography shoot location for your little cowboy or cowgirl:

This mural in Downtown Springdale is located at 134 W Emma St and was created by Arkansas artist Erin Ashcraft.

Another favorite is the monarch butterfly mural on the Springdale Airport Tower at 705 Airport Avenue in Springdale. This mural is part of the Migrating Mural project with more locations in Miami and Orlando, Fla., created by artists over a three-year period along the butterflies' migrating paths between Mexico and Canada.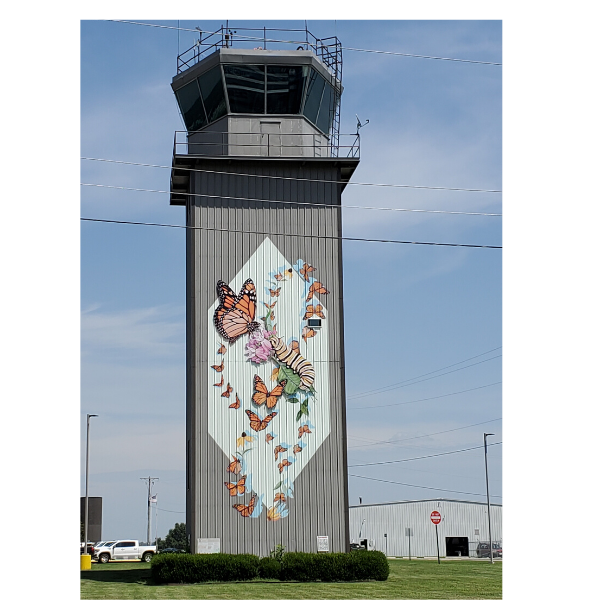 This mural "Turning the Corner" is by Arkansas artist Jason Jones is at 101 W Emma St.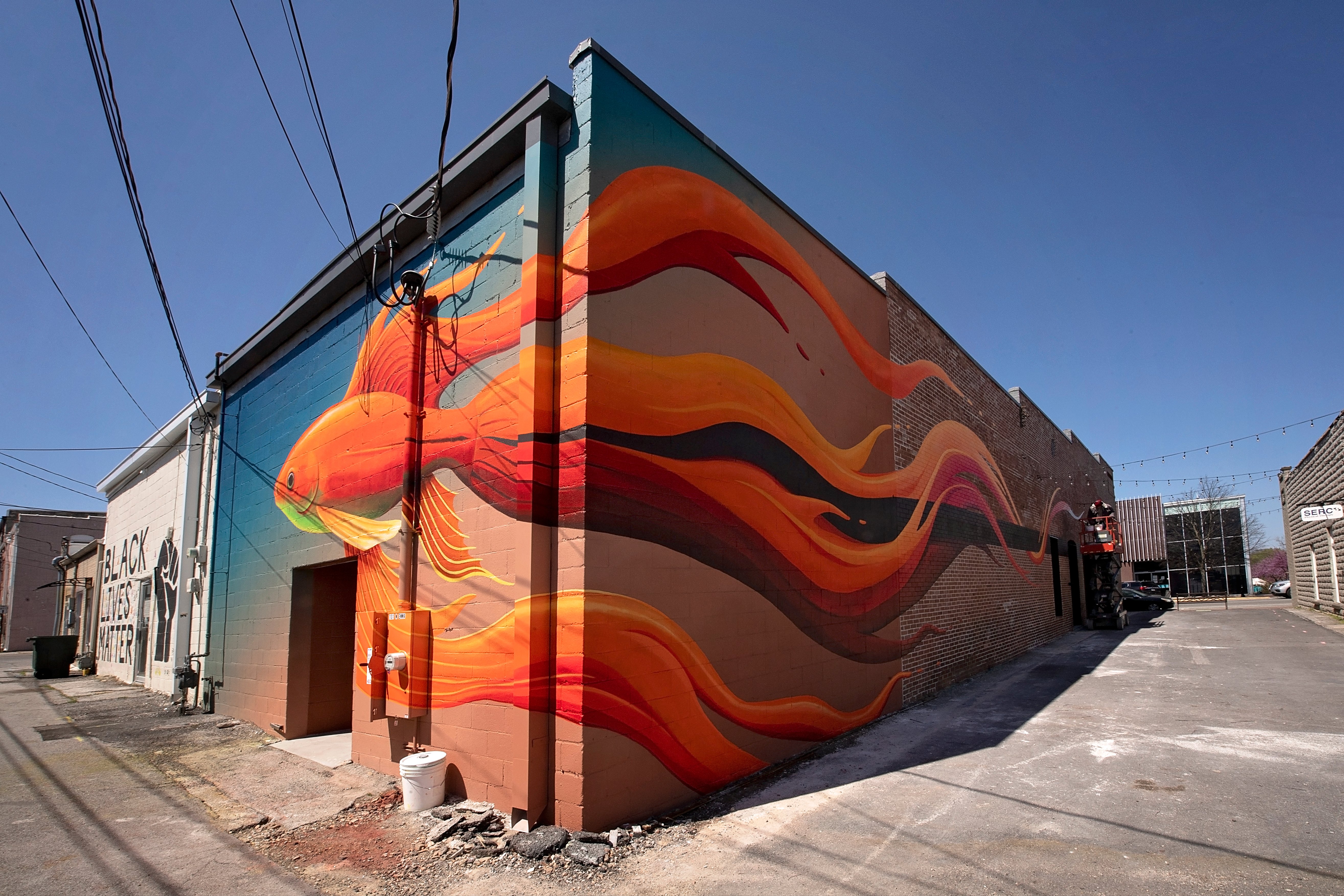 Rogers
Bleu Girl was created for the Urban Bleu Hair Salon at 113 W. Elm St.
There are several murals painted on the train cars at the Railyard Bike Park at 299 E. Cherry St.
One of the most powerful murals in Northwest Arkansas is the Rosa Parks 1955 mural recently painted by artist Samuel Hale, which you can find downtown Rogers at the corner of W. Walnut and Arkansas Street: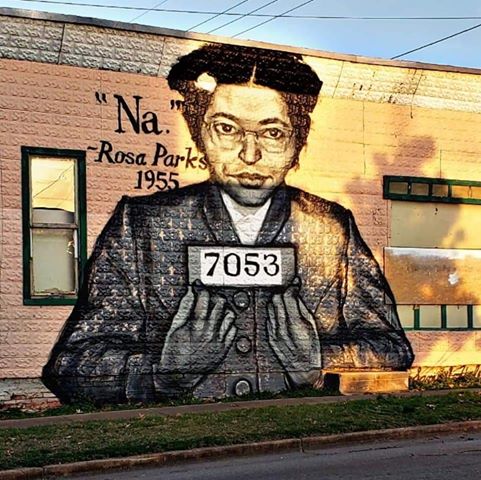 Bentonville
There are 24 pieces of outdoor art included on the city of Bentonville's Map of Public Art which was just updated in June 2020. One of our favorites is Big Blue, the giant blue octopus mural painted by artist Jason Jones in Bentonville.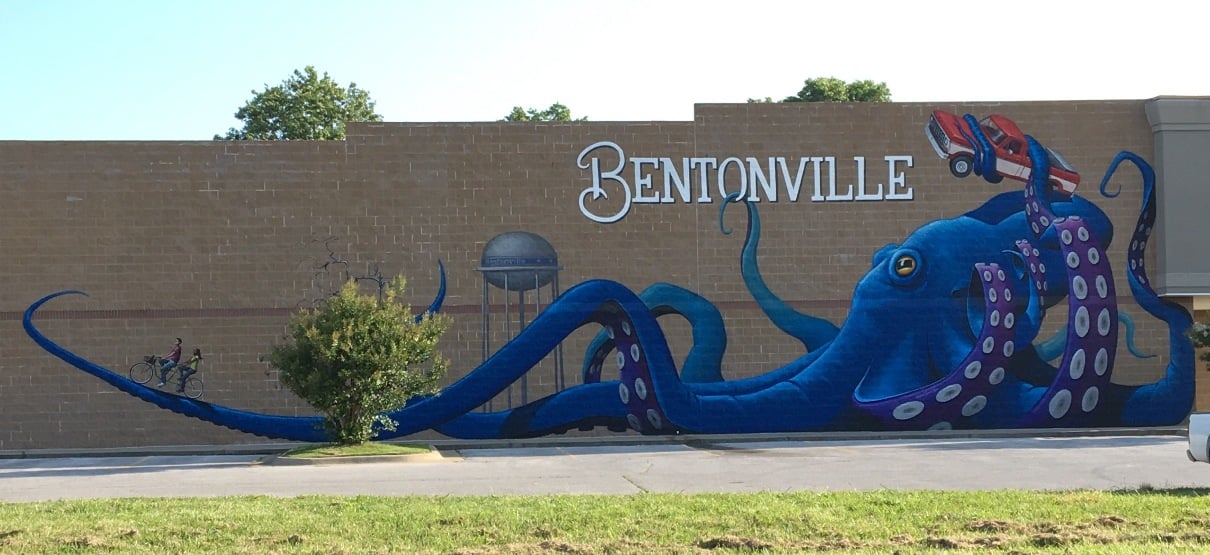 Here's a really cool mural on 8th Street in Bentonville near Yeyo's. (Photo Credit Allison Deere):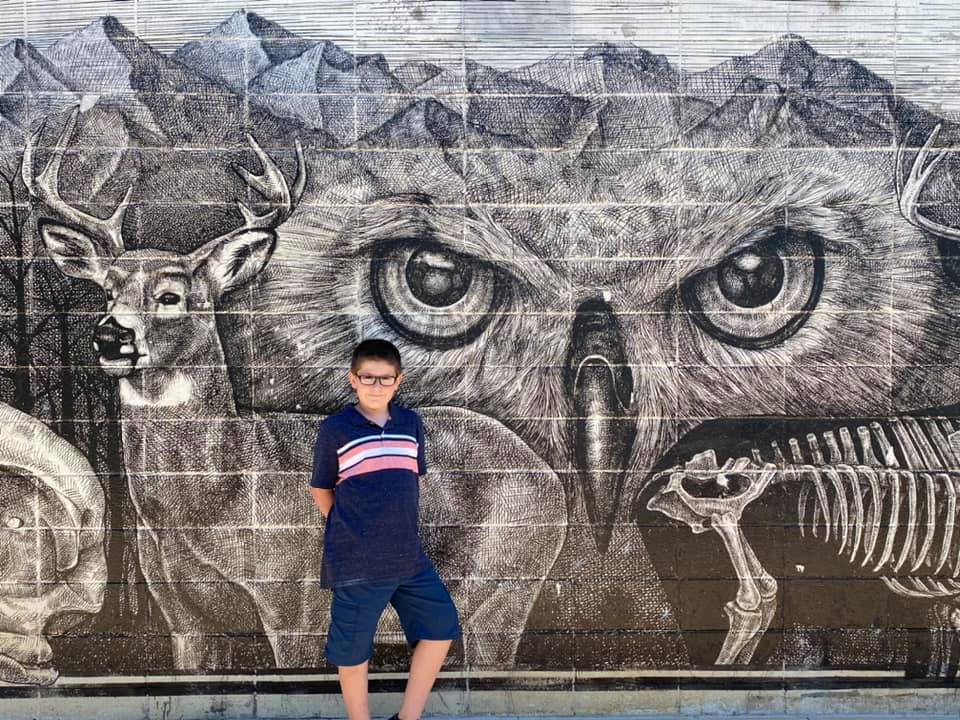 Eureka Springs
In terms of public art, this small, Victorian town has over 150 works of art alone! This article shares some of the more well-known pieces.
Siloam Springs
https://forecastpublicart.org/yatika-fields-creates-memorial-park-mural-for-city-of-siloam-springs/
Siloam Springs has several murals around town. Click here for a map of them all, provided by Main Street Siloam Springs.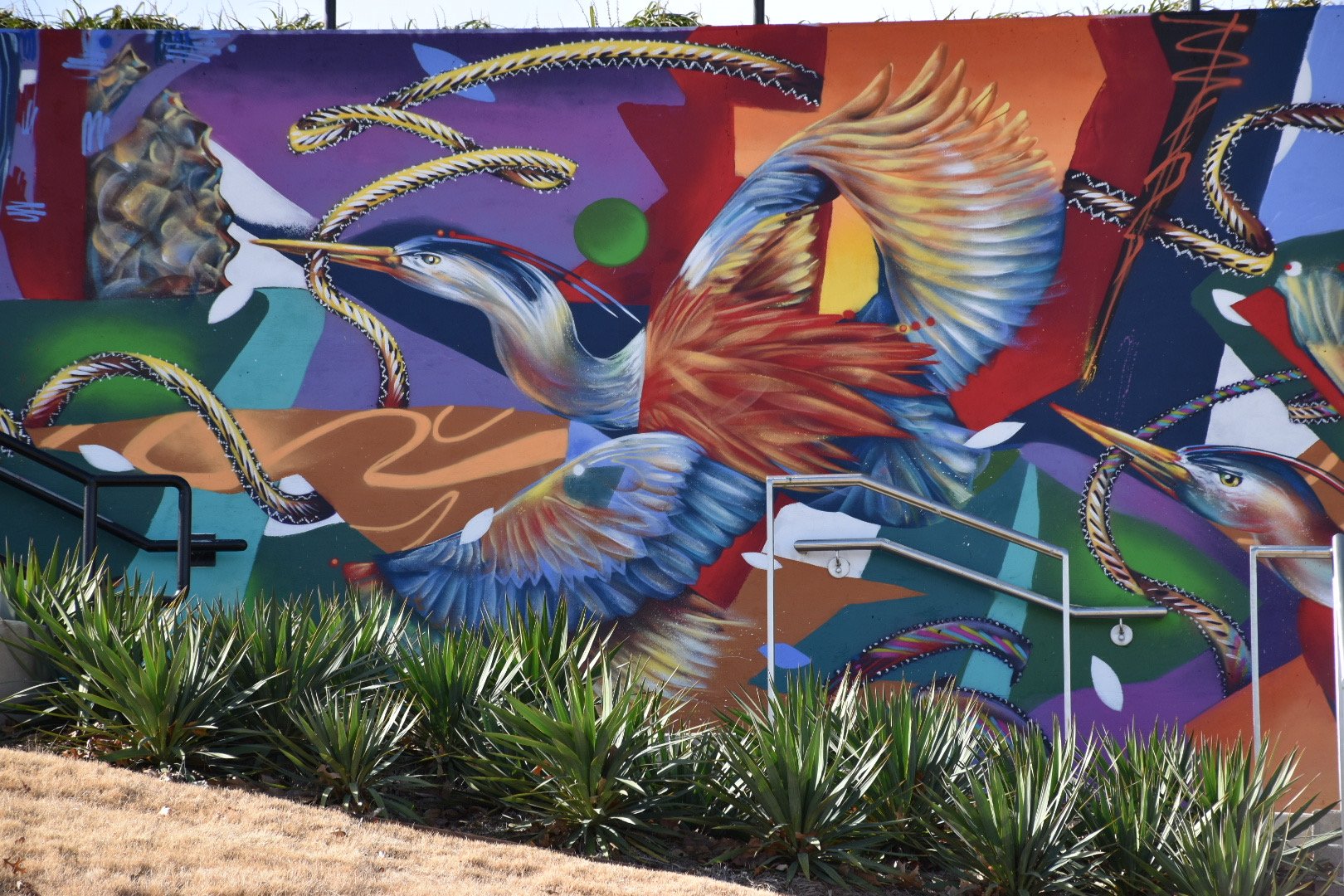 Prairie Grove
You can find this beautiful Coca-Cola mural on Mock Street in Prairie Grove. It is located on the corner of E. Buchanan and N. Mock on the side of Southern Mercantile.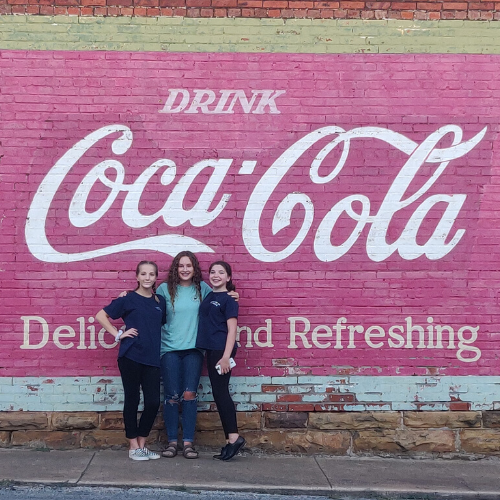 This new mural is at Venue 479 in downtown Prairie Grove. Located at 116 N Mock and painted by local artist Valerie Doyle, this mural is a great tourist attraction with a "Wish You Were Here" sign and trademarks of Prairie Grove, like square dancing and the Clothesline Fair.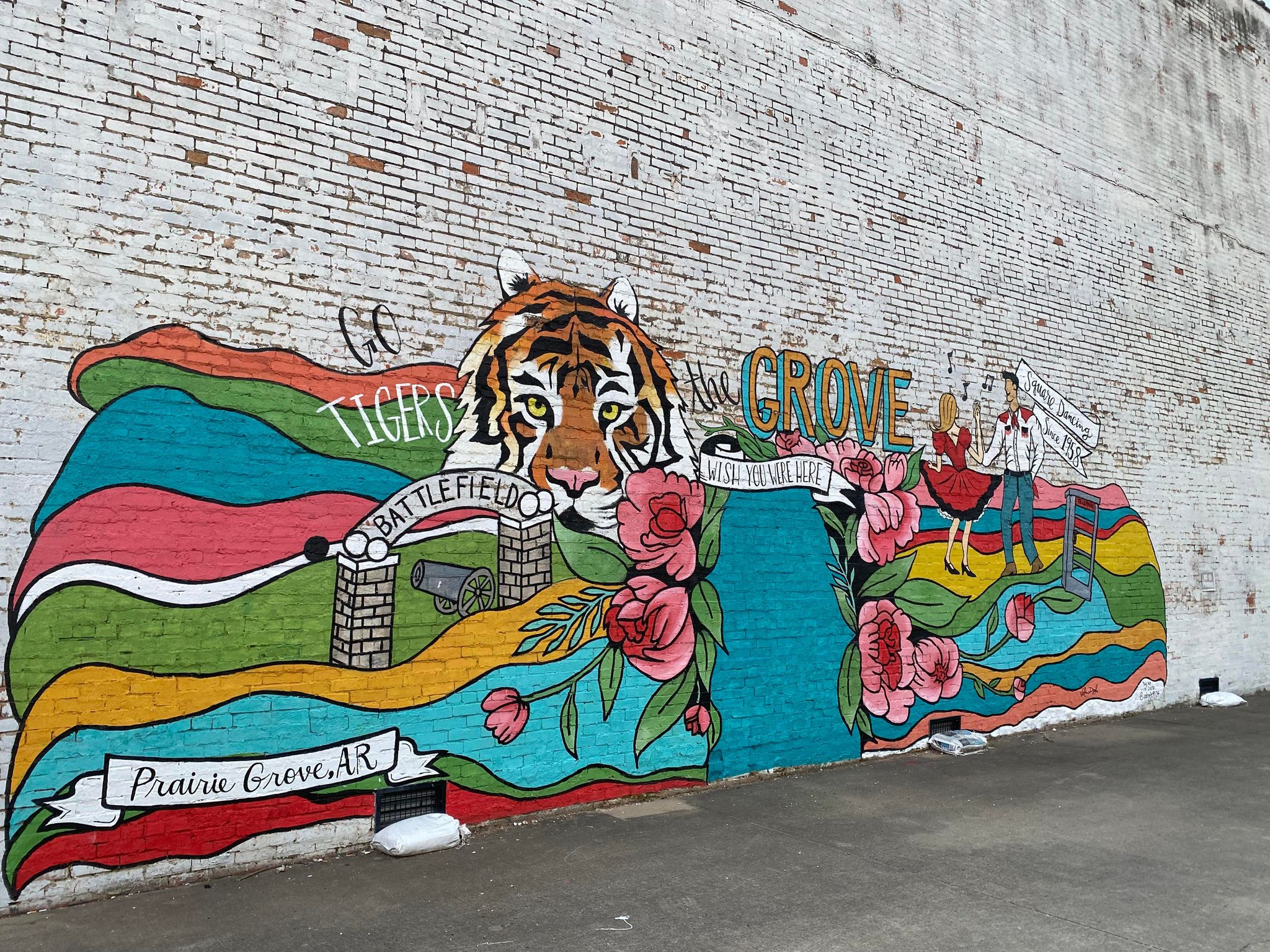 Additional Resources:
https://onlyinark.com/culture/art-across-northwest-arkansas/
https://northwestarkansas.org/blog/public-art-in-nwa-reviving-the-ordinary/
https://www.nwaonline.com/news/2019/aug/04/murals-worth-the-money-northwest-arkans/
Get out with your kids and drive or walk around looking for murals. This article only includes some of the many works of art around Northwest Arkansas and they cost nothing to see. Teens and adults will enjoy these spots as great Instagram photo backdrops.
Macaroni Kid Fayetteville is a free resource. Thank you to our sponsor Walton Arts Center for sponsoring this guide.