This year thanks to Covid-19, things look different for Halloween and most of the annual Halloween NWA events are not happening. But no worries- You can still take the kids out to drive around and look at some amazing and fun decorated Halloween homes and yards. Some homeowners have done more decorating than ever! I asked our Facebook fans what their favorite decorated homes and neighborhoods were and put them together in this guide so all can enjoy!
You can use this Google map to see all the locations. If not the exact address, it will be very close, and you may find more along the way.
The Skeleton House is one of the largest Yard Haunts in NWA and operates for donations to local nonprofit NWA Bully Haven Rescue. 20 Sandridge Dr. Bella Vista. This one has become pretty popular and is in a neighborhood so the owners ask that you please remain in your car and tune your radio to 95.9 FM. (NEW FOR 2021: You will find a scannable QR code on signs on the property and a donation box, both of which are being used to raise money for St. Jude's Children's Research Hospital.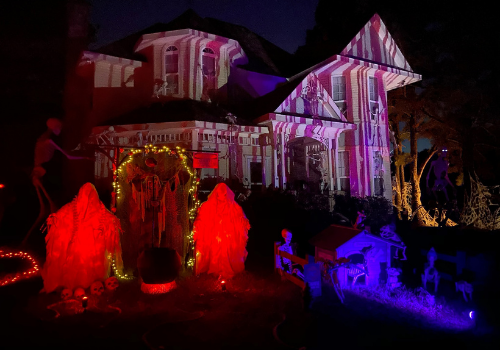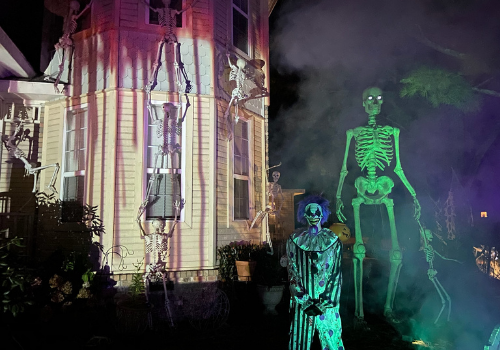 Callie Lane in Centerton- synchronized lights to music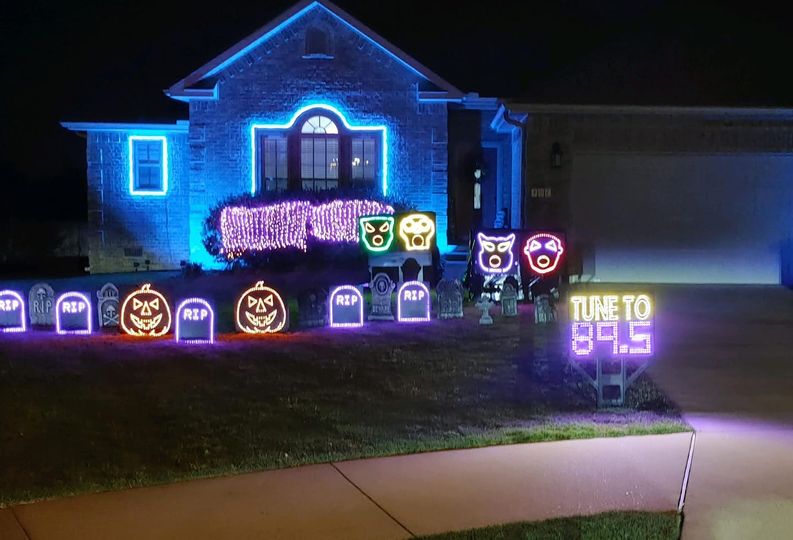 6305 S 36th st, Rogers-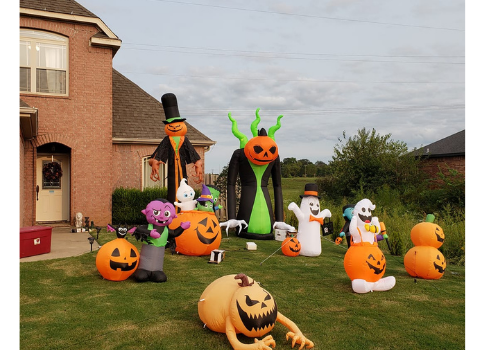 The Halloween House on Lone Jack Drive- Fayetteville. 475 N Lone Jack Drive. This is a newer neighborhood so the street will come up in GPS but the address may not. It is off of Persimmon St. Roll down the windows to hear the music! Here's a glimpse of this one on video. The owner says the best time to come is a Friday or Saturday night because that's when everything is turned on, including 3 projectors, a Tombstone TV, a haunted crypt with low lying fog, a jumping spider, plenty of tombstones surrounded by a huge Reaper and pumpkin scarecrow. Lights normally come on when it gets dark and stay on until about 9 pm.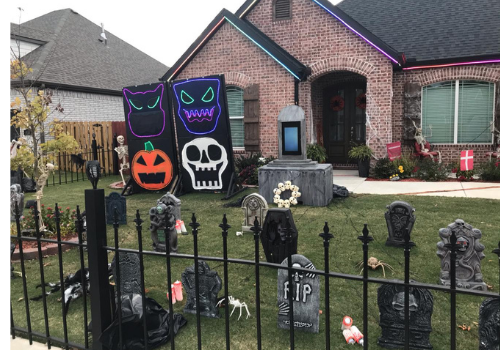 201 Pleasant View Lane in Bentonville- Sherman Halloween Havoc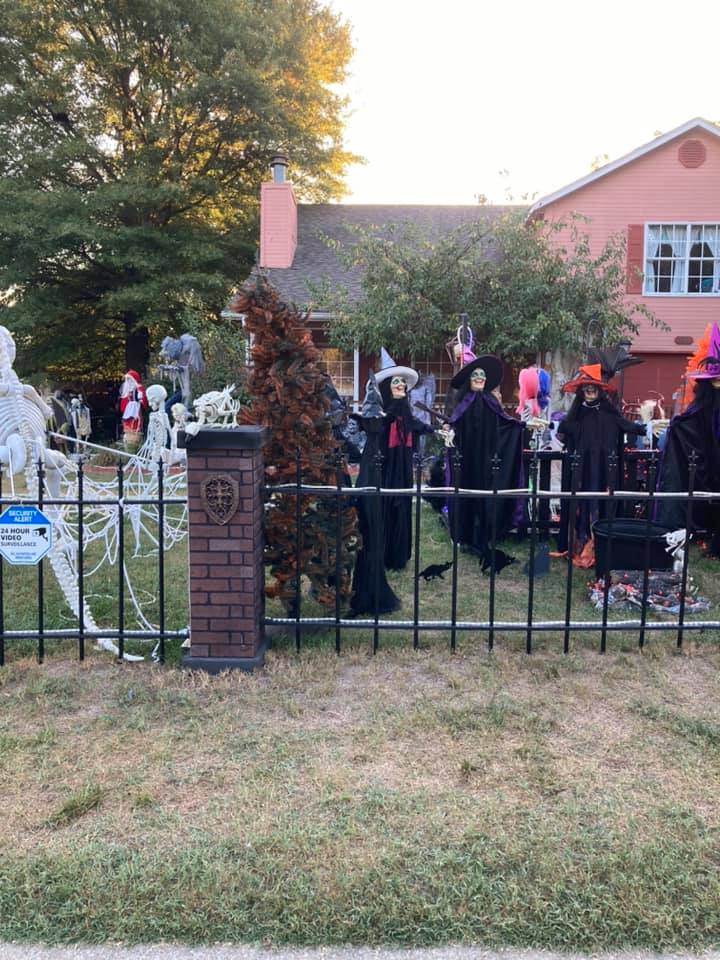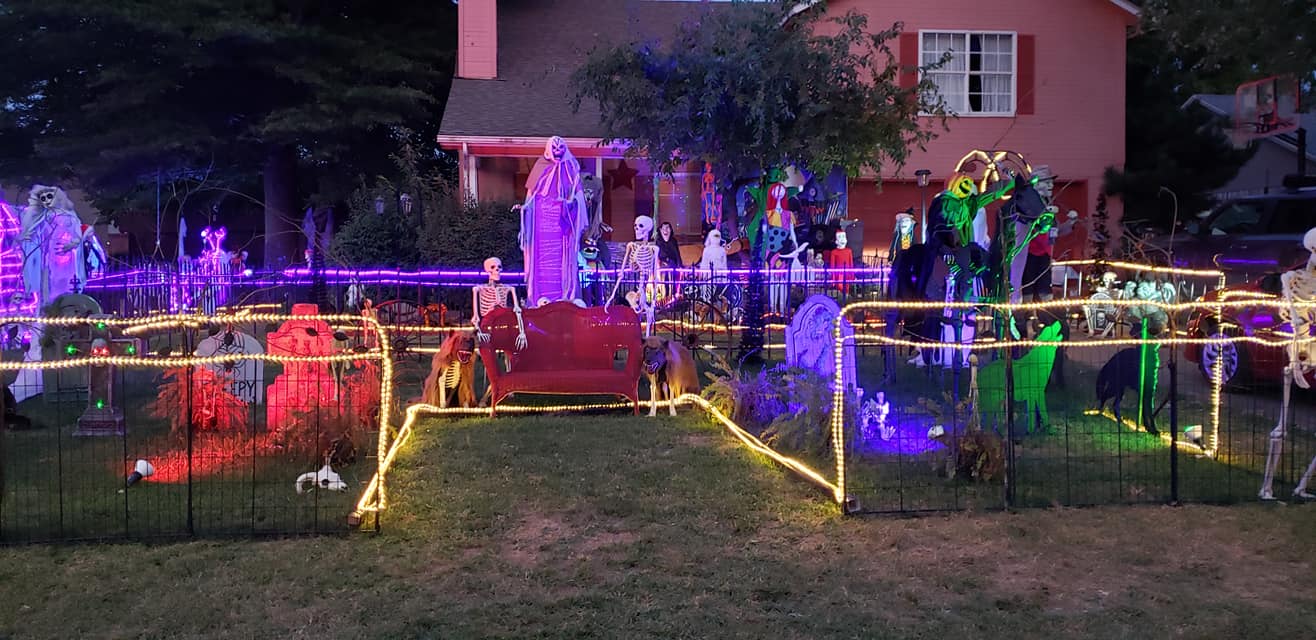 Bentonville Heart Lites at 3505 NW Edgewood Ave in Bentonville is always amazing at Christmas and just like last year, they have added a Halloween setup, playing everything from the Razorback fight song to a Star Wars song. Check out a video glimpse of it here. Donations can be made to Rampy MS Research, a local organization that Bentonville Heart Lites supports, here. 6:30-9:30 each night. You can donate online at www.BHLforMS.com, onsite in our donation mailbox (black mailbox that says DONATE on the side), or you can scan Venmo QR code on signs on both sides of the road.
Please remember we are just a family in a neighborhood, not a business. Please be considerate of our neighbors and other traffic (especially watch out for kids walking across the street). Tune to 102.7 to listen in your car radio or park behind our house at the bus barn and walk over (we have outdoor speakers).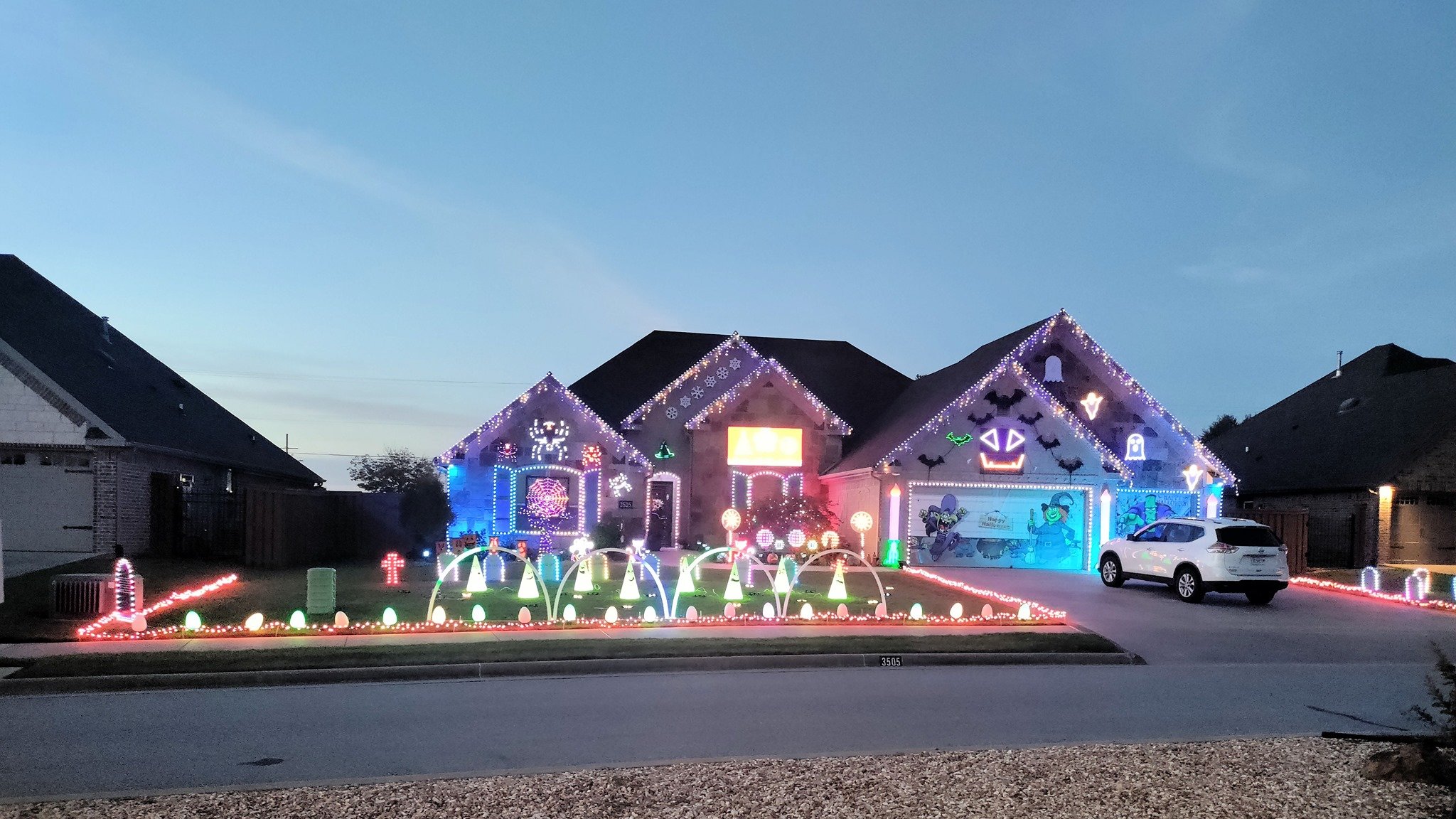 3408 Martha in Springdale- They decorate this awesome old wagon plus other fun decor!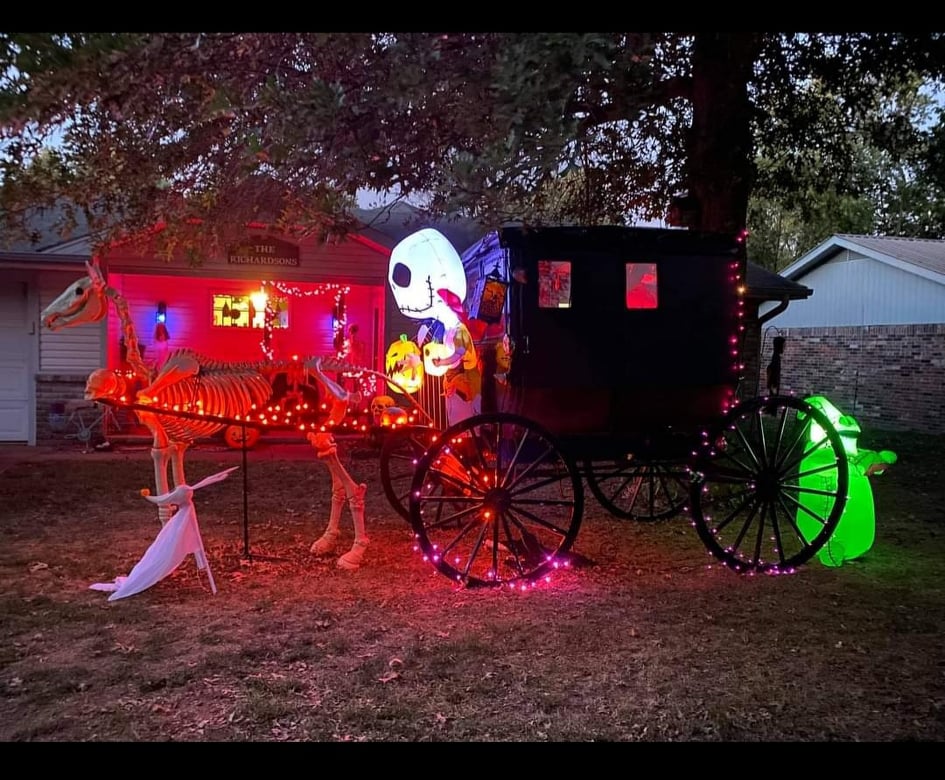 109 E. Parks in Prairie Grove (color-changing each night)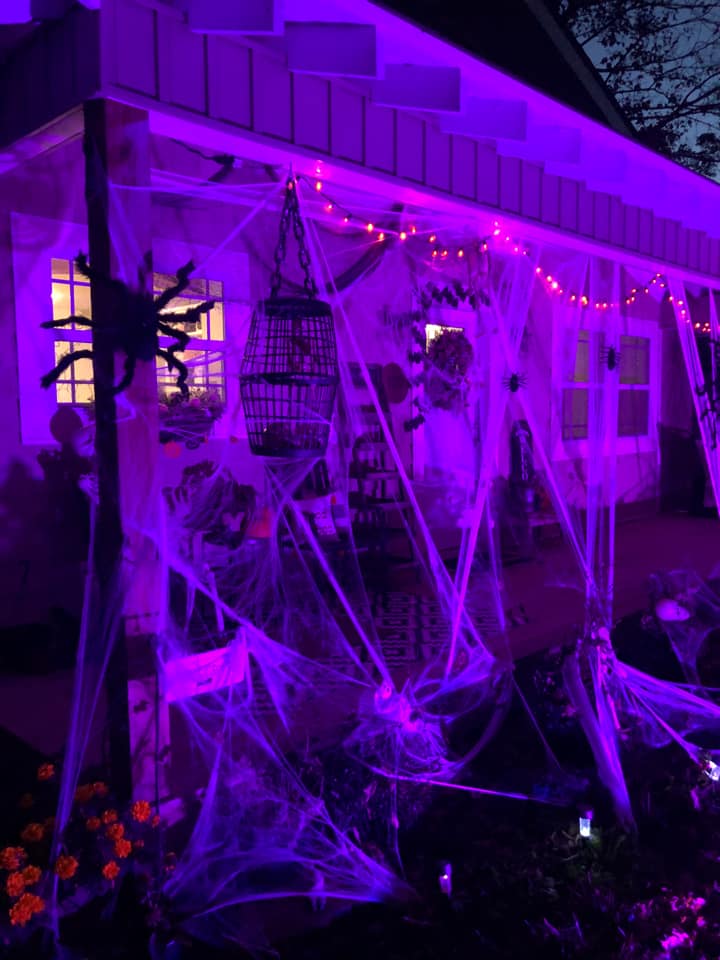 139 N Neal in Prairie Grove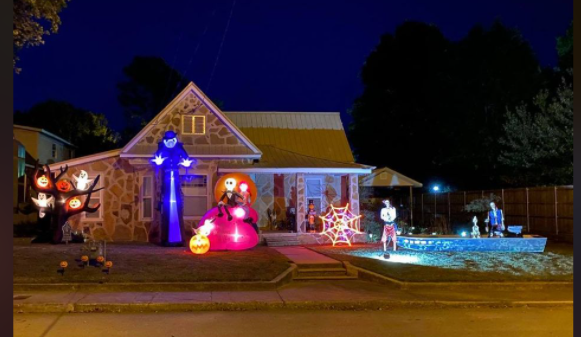 1699 Olivia St in Centerton
More:
801 Sedgwick in Prairie Grove
138 N Neal in Prairie Grove
142 W South St in Lincoln
1660 Sunrise Drive in Centerton has a UFO
I will continue to add to this list as I find out about them. Know of one I've missed? Email me at KaraA@macaronikid.com and let me know!